Essay on Republic Day – India celebrates Republic day on January 26 annually with a lot of pride It marks the day when India became a truly democratic republic country. In other words, It is the day when our constitution came into effect.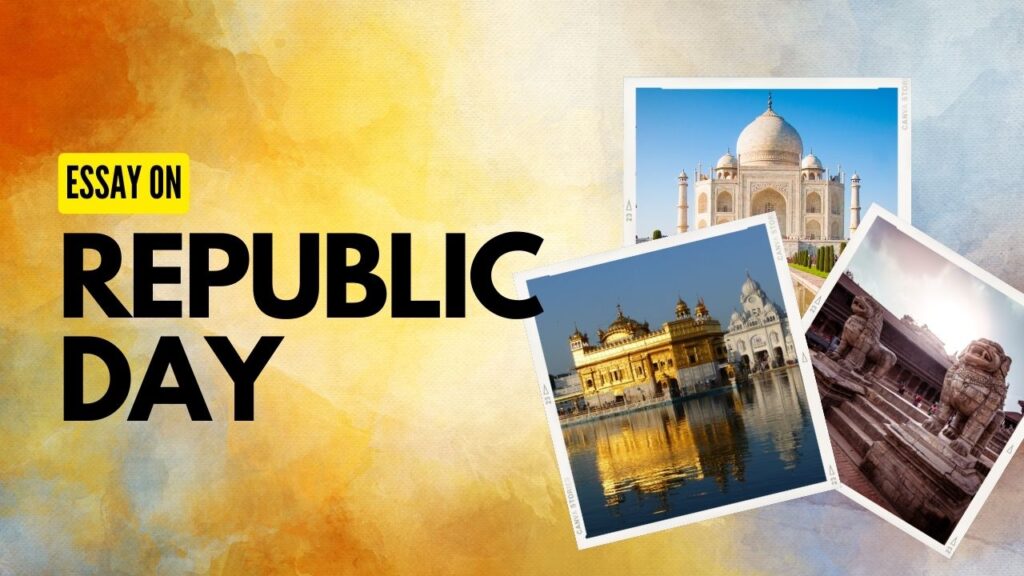 History of Republic day:-
Dr. B.R. Ambedkar lead a constitutional drafting committee it was presented to the constituent Assembly by the same committee on November 4, 1947. This whole procedure was very elaborate and took up to 166 days to complete.
Republic Day Celebrations:-
Indian celebrate January 26 with lots of enthusiasm and zeal. The capital city of India, New Delhi, celebrates it as a republic Day parade of the Indian Military and the cultural diversity of our country.
Further, in schools, March past takes place and it is mandatory for every student to attend the celebrations. In many schools, they distribute sweets on this day as well. While it is a very joyous day, we must not forget the struggle for freedom that our forefathers took part in. Moreover, It is a day to celebrate the spirit of freedom and make sure to help India reach greater heights in the future.
Essay on Republic Day (200 words)
Republic Day is celebrated on 26th January every year. On 26th January 1950, the constitution of India came into effect. That was the day when India because a republic. Dr. Rajendra Prasad then became the first president of the Indian Republic.
After Independence, a special constituent assembly was appointed for making the Constitution of India. Dr. Bhimrao Ambedkar led the Constitution drafting committee. After 166 days, the Constitution of India was finally made. Dr. Bhimrao Ambedkar is called the father of our Constitution. This day is celebrated with fervor and pride across India. It is a national holiday.
On Republic Day, my school campus is decorated. Small tricolors, ribbons, and balloons are used for it. The national flag is hoisted on the building. The National Anthem is sung on this day. A big event is organized at Rajpath in New Delhi. The Jawans of the three armed forces the army, the navy, and the airforce take part in the parade.
The President of India takes a salute from the marching Jawans. Glimpses of Indian states are presented in the parade. Republic day is a very important day for all of us. we should understand the importance of this great day.
Essay on Republic Day (250 words)
Introduction: Republic Day is celebrated with great pomp in India every year on 26th January, because the Constitution of India came into force on this day. As soon as the Indian Constitution came into force, India became a fully democratic republic nation. Before 26 January 1950. India was under British domination. The Constitution of India was prepared in 2 years, 11 months, and 18 days.
Importance of Republic Day: Republic Day celebrations are a proud day for all Indians because on this day India became a republic nation. India's own constitution and law and order came into force on 26% of January. Under this constitution, the citizens of India were given many fundamental rights such as:
Right to equality.
Right to freedom.
Right against exploitation.
Right to freedom of religion.
Culture and education rights.
Right to constitutional remedies.
Republic Day is celebrated all over India. Every year on 26th January, the national flag is hoisted by the president of India and then the national anthem is sung in a standing ovation. Students from various schools and states of the country also come to participate in this ceremony.
Conclusion: It is the responsibility of every citizen to appreciate and abide by the constitution and rule and order of the country. The satisfaction of the country's constitution should forever be maintained. All Indians should obey the constitution of the country and collaborate in maintaining peace, harmony, and unity in the country.
Speech on Republic day 2023 in English
Respected Principal, Teachers, and my dear friends.
My name is Yashwant. First of all, | would like to thank you for giving me such a great opportunity to speak on Republic Day. Before moving forward, I would like to wish you all a Happy Republic Day.
Today, we all have gathered here to celebrate the 74th Republic Day of our nation. This is a great and auspicious occasion for all of us. We have been celebrating the Republic Day of India continuously since 1950 because the Constitution of India came into force on 26 January 1950. The constitution we have today has come into existence after many debates and amendments.
On this day, our Indian flag is hoisted and National Anthem 'Jana Gana Mana' is sung. Republic Day parade is a big event conducted at Rajpath in New Delhi. The president gives 'awards to the brave soldiers and people on this day.
However, it was adopted on the 26th of November 1949 under the chairmanship of our beloved Dr. Bhim Rao Ambedkar and we all know him as a father of the Indian Constitution. Constitution gives all of us the same right despite any difference of religion, color, or language. We live in a democratic country where people enjoy their fundamental rights.
Democracy is the government of the people, for the people, by the people. Therefore, it becomes our fundamental duty to protect and respect the system and constitution of our country. The great heroes of our country have fulfilled their responsibility by giving us freedom and making a constitution. Lend me a speech by paying my respects and tributes to those great revolutionaries.
Thank you
Have a nice day ahead