Essay on Diwali – Diwali is a happy festival in India. It is also known as Deepawali. Diwali means brown of lighted lamps. This festival is celebrated in October and November every year.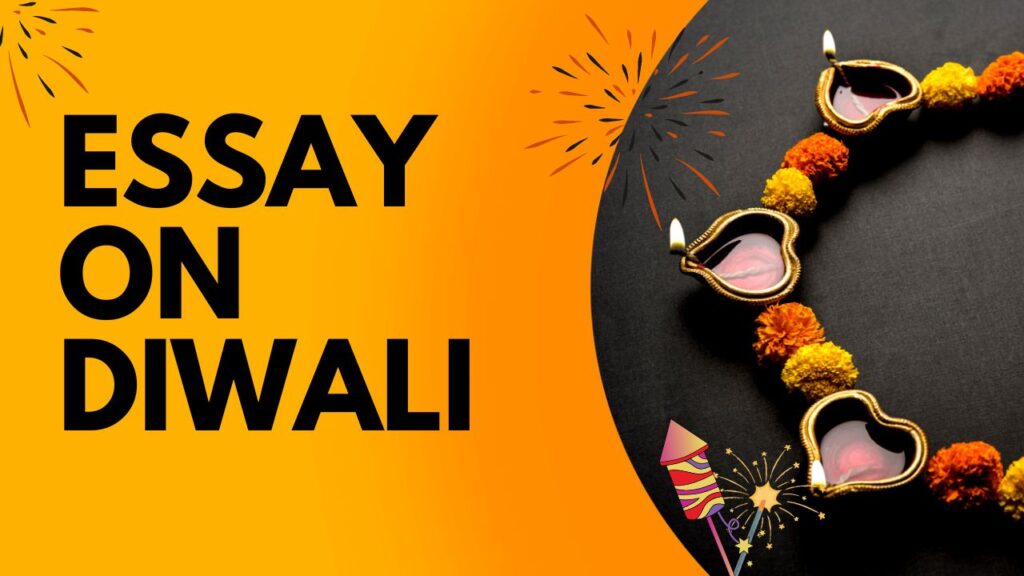 Lord Rama came back to Ayodhya on this day. He lived in exile for fourteen years. When he came back to Ayodhya, people lighted lamps. The people were very happy on his return. they did not sleep for the whole night on this day. When Diwali comes people decorate their houses, and shops with colorful lamps, rangolis, flowers, etc.
They prepare sweet dishes to eat and distribute them to relatives. It begins with the festival, On the first day Known as Dhanteras or Dhantroyodashi people celebrated the birth anniversary of Lord Dhanvantari, the teacher and the father of Ayurveda. The second day is Naraka Chaturdashi or Choti Diwali. On this day people wake up early and apply aromatic oils to them before taking bath.
The third day is the main Diwali festival. Laxmi Puja is performed on this day. The fourth day is Govardhan puja or padva. On this day people make a small hillock usually of cow dung. Symbolizing Goverdhan and worship. The fifth and the last day is Bhai dooj. On this day sisters pray for their brothers for a long and happy life. Diwali is a holy festival. We must do not anything wrong at this festival. we express love to all. Diwali is the festival of love, unity, and happiness in life.
Essay on How I celebrated Diwali
This year I celebrated Diwali a little differently. I enjoyed it more than ever. Our entire family did shopping for Diwali. We decorated our house and my mother prepared sweets. This year I celebrated a green and clean Diwali. I did not burst any crackers. My brother, cousins, and friends did not explode and cracker.
Essay on My Diwali vacation
As soon as my terminal exams got over, I was excited about the Diwali vacation, because it's the festival that I love as it brings so much joy and happiness all around. My mother being a school teacher also had a vacation, so she decided to take me to Pune at Nani's house (My grandmother's house).
After celebrating Diwali I and my parents celebrated Diwali at our home and had a good time, but all I was excited about was to go my Nani's place because my cousin Neil was waiting for me there. After celebrating Diwali, we left for Nani's house the next day, it was a three-hour journey we reached Pune, My Nani was overjoyed to see me and my mom. Neil and I started to play video games and enjoyed our time and then we had a delicious meal cooked by Nani. Our stay continued for four days, and then we had to return back home. Goodbyes are the hardest, as they say, we came back home with lots of memory to cherish, until the next vacation. This was all about my Diwali vacation.
Why do we celebrate Deepavali?
Diwali is a day when we celebrate by bursting crackers and lighting Diya's for the win of good over evil. There are many stories as to why we celebrate Diwali. The most famous of them is the story of Narakasura. Why do we celebrate a day for an Asura? What makes him so special to be celebrated over all asuras? The story of Narakasura goes back to the time of dwaparayuga. The asura was the son of bhudevi and lord Vishnu Varaha's avatar. Narakasura once did a deep penance to please Loed Bhrahma. When lord Brahma appeared in front of him, he desired a boon where he could only be killed by his mother bhudevi.
Lord Brahma looked at his devote and said tathastu. The tyrant demon terrorized the people of the earth and even wanted to conquer heaven with his power. The demon king held 16,000 princesses of the defeated king and imprisoned them. After he defeated everyone on earth, He goes to Indra Dav "the door of heaven". Fearing Narakasura's power the king of gods ran away. This in return allowed Naraksura to capture the princess of heaven including Indra Dev's mother Aditi. Indra dev goes to Vaikuntha to seek lord Vishu's help. Lord Indra told the story to Lord Vishu.
Lord Vishnu gives the advice to go to Lord Krishna. Indra Dev went to seek lord Krishna's help. Bhudevi is the incarnation of Satyabhama. Satyabhama was furious with what the demon king did with Indra dev's mother and the 16,000 princesses Satyabhama along with Lord Krishna mounted in Garuda to wage a battle against Narakasura. On the Battlefield, Narakasura was ready with his army.
Lord Krishna fought the entire army and started to fight with Narakasura. But Narakasura attacked Lord Krishna because of the power given by Lord Brahma. Satyabhama becomes more furious seeing her husband faint. She pulled an arrow from the quiver and stretched it on the bow. She shot Narakasura with her arrow, she injured Narakasura badly. The last wish of Narakasura was to be remembered for jay and not for hate. Satyabhama blessed her and the Naraksura died. This is a day in Known as Narka Chaturdashi.
Also, read